Approved Solutions
Have You Been Using The Same Assessment Instrument For eight Years Or More?
The Texas Education Code requires that school districts:
avoid using the same form of assessment instrument for more than eight years
ensure that assessments are linked to norming that is no more than eight years old
Did you know Performance Series® has been certified to meet these requirements and is on the TEA approved list for Group-Administered Achievement Tests, for both School Districts and Charter Schools?
Scantron is a proud sponsor of the Texas Association of School Administrators!
Scantron Says Yes To Texas!
Performance Series is the only approved assessment that can say "yes" to ALL of the following: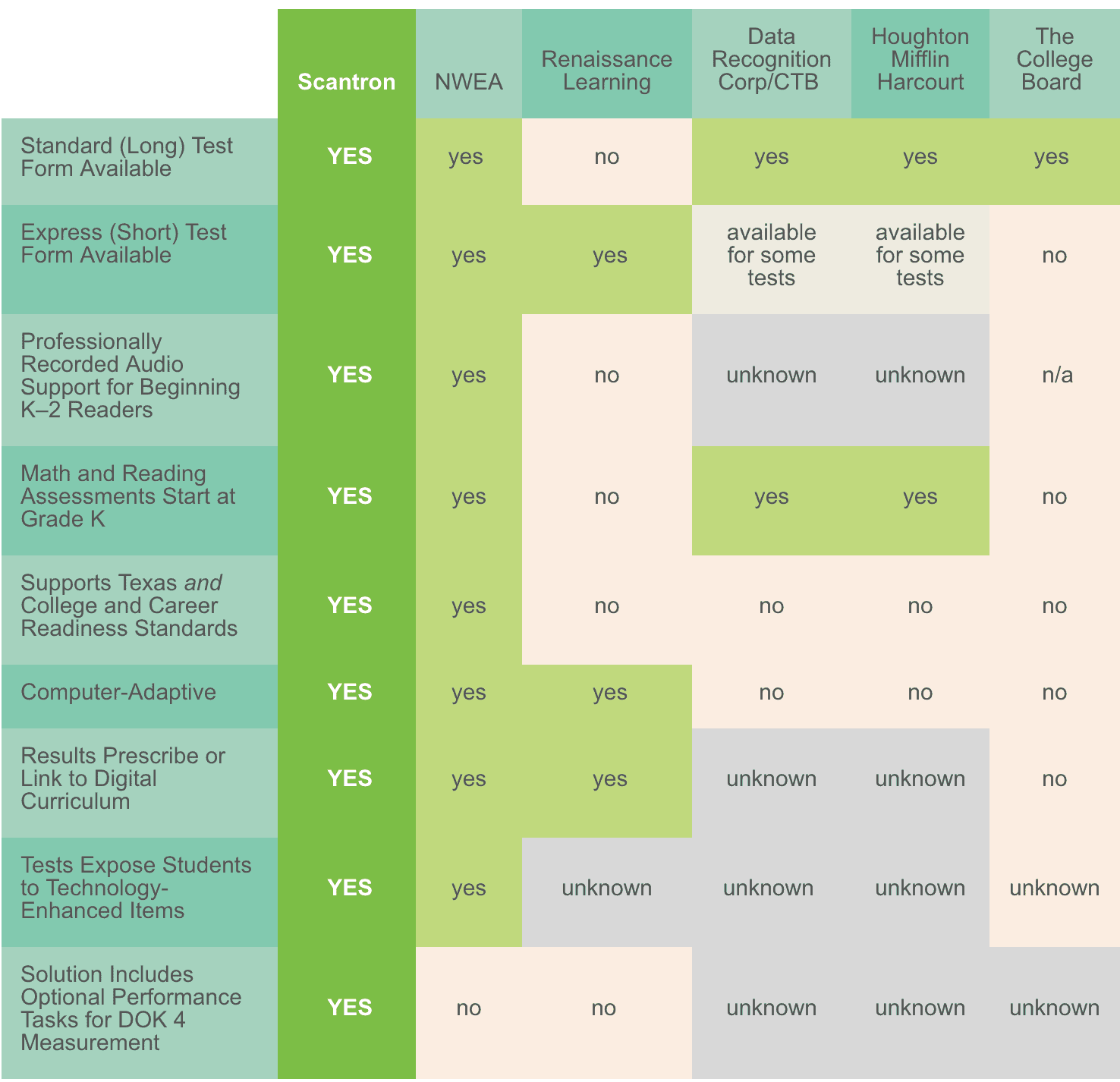 Learn more about what Performance Series offers Texas educators.
Performance Series and Achievement Series' analysis tools and reports enable teachers to use their assessment results to effectively drive instruction.
Scantron delivered not only a superior product but also a superior system of delivery, support, flexibility, and technical assistance.
Scantron has provided the tools needed to validate student learning and support teacher decisions to move students to the next Performance Level when they are ready.
Performance Series questions went beyond grade-level standards. This…opened the curiosity door and allowed [students] to search the depths of their knowledge.
We have used the Performance Series assessment for ten years at Valley Oak and we find it a very useful tool for identifying specific standards that have not yet been mastered.
It helps teachers dramatically focus their efforts…the instruction the next day can be based on [reports from yesterday's test]…
These benchmarks provide a collective pulse for students that categorize where they are and where they should be in the Spring to show they're having growth and success in the school year
"When students see success, it eliminates many negative performance issues. Personalized learning based on their assessment results meets them where they are and gets them where they should be so they can see that success."
[This] is an excellent tool for our school! It helps us make data-driven decisions, which benefit all learners, regardless of performance level.
"I love the way Scantron Performance Series establishes a learning path that can be easily tracked throughout the school year by measuring academic gains, not a 'one and done' test score."